Sesame Interactive is a case-collaboration tool that allows you to communicate and share digital records in a secure and HIPAA-compliant manner. 
Logging in
After you have been added to your colleague's Ortho or Dental Sesame service, you should receive an Intro Letter that contains your password and a link to access Sesame Interactive. You can also visit Sesame Interactive by visiting your colleague's website and clicking on the Doctor Login button (typically located at the top and bottom of the Home page).
The Sesame Interactive login screen will prompt you to provide your email address and password. The first time you log in, the email address will be the address to which your Intro Letter was sent, and the password will match the password in your Intro Letter.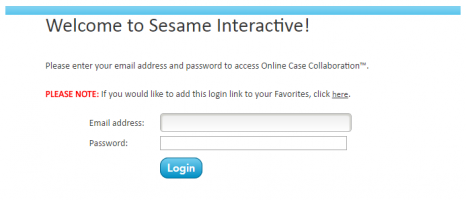 If this is your first time logging in, you will be prompted to accept the Terms of Use for Sesame Interactive.
If you have forgotten or misplaced your password, you can request a password reset on the login screen. The reset email will be sent to the email address in your account settings.

Home page
Once you have successfully logged in, you will be directed to the Home page of your Sesame Interactive account. If you have received new messages from your colleague since you last logged in, these will be displayed in a list at the bottom of the Home page. From this list, you can click on a patient name to jump directly to the Message Board for that patient.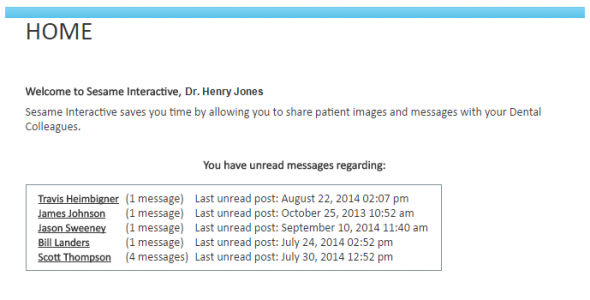 Message Board
The Message Board is the heart of Sesame Interactive's case-collaboration. Here you will find a list of messages that you have created or received regarding your patient. You can read new messages, post new topics or view uploaded images for that patient.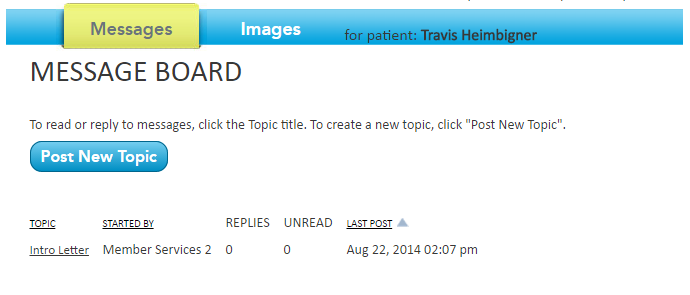 Existing topics
To read an existing topic, simply click on the subject name in the Topic list of your Message Board. Topics are displayed in a format similar to an email. At the top of the message your will see fields indicating who sent the message, and to whom it was sent. There is a key that lets you know which recipients have read the message, so you can track the status of your collaboration (see below). You can use the "Reply" button above the message to respond to the topic.

Posting a New Topic
To post a new topic about a patient, simply click on the "Post a New Topic" button from the Message Board for that patient. After you have filled in the Subject and Message fields, you can use the "Alert authorized Dental Colleagues to this message" section to select or de-select which colleagues will receive this message. If you want to send digital records along with the message, click on the "Choose File" button to browse your computer for the file. Once selected, "Attach Image" to ensure that the image is attached to your message.
After you click "Post Message" your chosen colleagues will be alerted via email that they have a new message.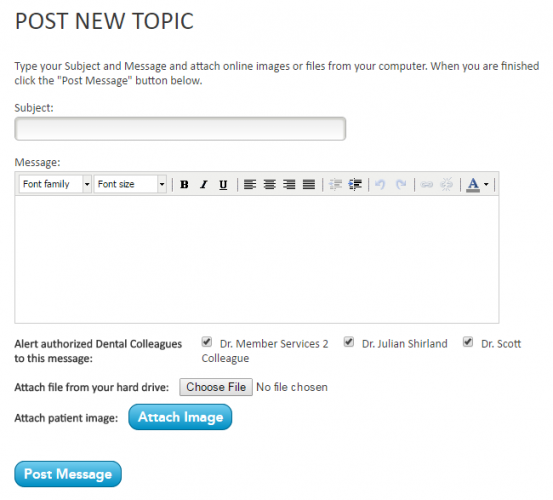 Images
Your colleague can also share with you digital images related to your mutual patient. If any images are available, you can view them by clicking on the "Images" tab in a patient's Message Board. When a patient has images available from multiple visits, you will see a drop-down menu that will allow you to select the Time Point, and view the images for that visit.
You can click on an image to enlarge or print it. Use the Zoom slider to enlarge an image, and the Print button to print off a copy.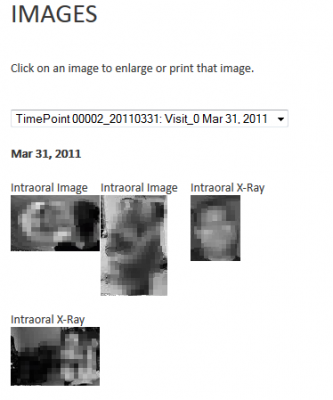 Select Patient
To start a new topic or view previously shared images for a patient, you can click the Select Patient link at the top of any page in Sesame Interactive. From the Select Patient page, you can click on a patient name to be taken to their Message Board to view messages or images related to that patient.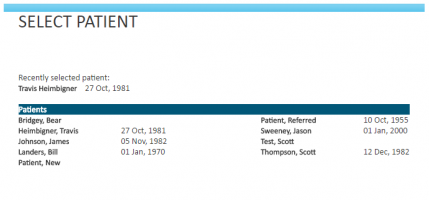 Settings
By clicking on the Settings link at the top of any page in Sesame Interactive, you can update the email address and password associated with your Sesame Interactive account. Simply type in the desired email address and/or new password and click "Save"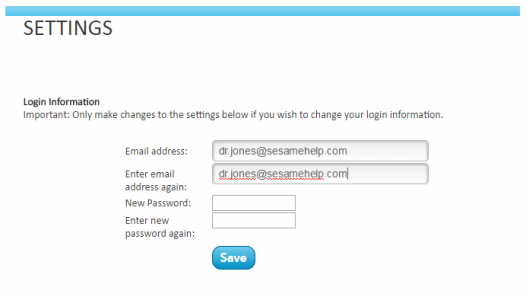 Looking for more information?  Check out these Related Pages!
Our Member Services team is available Monday through Friday, from 6:00 AM until 5:00 PM Pacific. You can reach us Toll Free at 866 537-8272 (outside of North America, dial +1 206 458-7700) - or use our Contact Form to send us an email.