Texting your Office Number
2-way text messaging allows you to conduct a conversation with your patients within your dashboard. When a patient texts your office number, configured in the General Settings of your dashboard, you will receive a notification of the new message and be able to respond to the patient directly.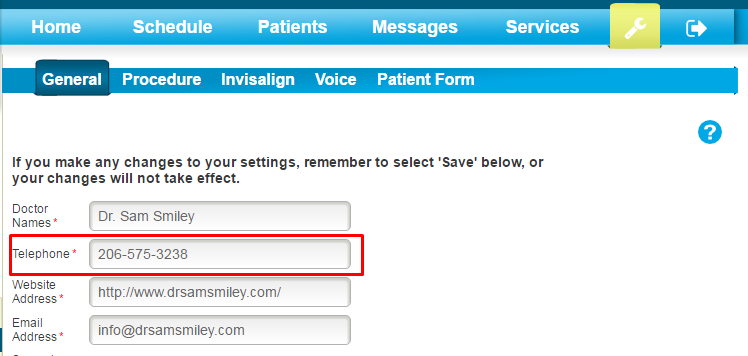 Notifications
When a new text message is received from your patient, you will see a notification appear on the upper left side of your dashboard screen. Click on the notification to go to the text conversations screen.
Keep in mind, you will no longer receive an email when a patient sends a text message to your office; this notification replaces those messages.
Locating Text Conversations
You can find the conversations screen under the Messages > Text > Conversations tab:

The Conversations Screen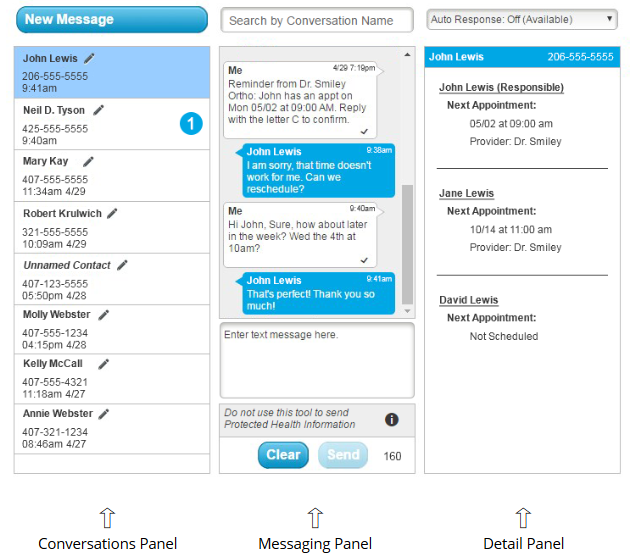 On the left side of the screen, you will see a list of all text conversations (Conversations Panel). Click on the conversation you want to open to see a list of messages in the middle panel (Messaging Panel). Opening the conversation will also display the account details of any patients/responsible parties associated with the phone number you are texting with (Detail Panel).
Sending a Message
To send a new message, click on the "New Message" button above the conversations panel. A dialog box will appear that will allow you to search for a recipient by name and send a text message to their mobile phone number: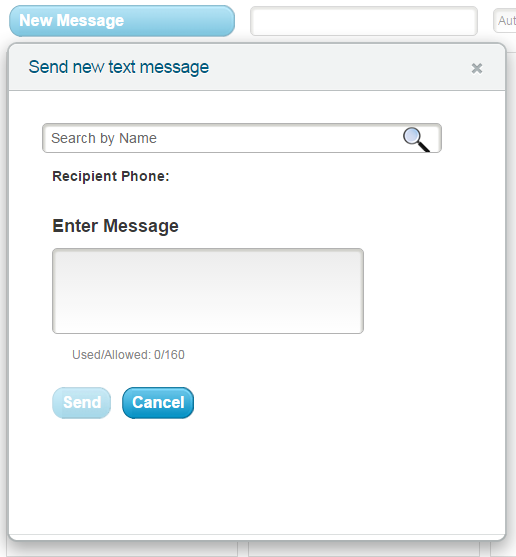 You message is limited to 160 characters to it from being split into multiple texts on the patient's phone. The character counter will help you compose a message that meets the length requirement.
Note: Only patients who have SMS-enabled phones in Sesame will show up in this search and be eligible to participate in 2-way text conversations
Conversation Names
When you receive a message from a contact you have not exchanged text messages with before, the conversation name will appear as "Unknown Contact". To keep track of the conversation, you can click on the pencil icon next to the conversation name and assign any name to this conversation: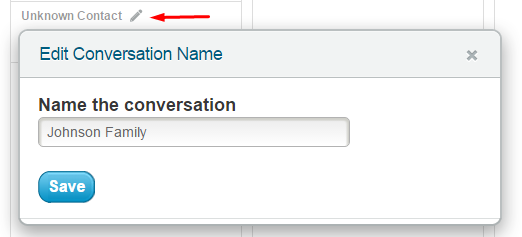 You can also change the name of any conversation at any time.
Search
To quickly find an existing conversation in the conversation panel, you can use the search field above the messaging panel. The conversations will be filtered to include only the ones meeting your search criteria:

Autoreply
When you are unavailable to answer your patient's text messages, you can automatically let them know by selecting the "Out of office" Autoreply option. 

Any inbound text messages received while the autoreply option is enabled will receive an automated reply: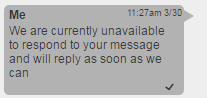 Messages View
There are 3 types of messages in the Messages Panel:

Automated messages sent by Sesame, such as appointment reminders will appear as dark grey text bubbles.
Messages sent by you manually through the conversations screen will appear as white text bubbles. Messages from your patients will appear as blue text bubbles.
For each message sent, you will see a date and time it was sent and a checkmark to indicate delivery status. Messages that could not be delivered will have an exclamation mark in the lower right corner.

Composing your message
Use the text box at the bottom of the messaging panel to compose and send your message.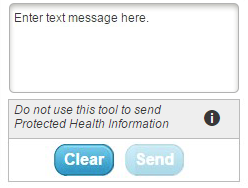 Notice: Please do not communicate Protected Health Information over text messaging. It is not considered a secure medium by HIPAA
Detail Panel
The detail panel will list all patients and responsible parties (RP) associated with the texting phone number in Sesame. You can click on the patient/RP name to go to their information page.