Need to create a new email address for your office? Just follow these simple steps to create as many email accounts as you need.
Creating a new email address
Open your web browser and enter https://www.sesamewebmail.com or http://mail.yourdomainnamehere.com
(Type in the domain name your office uses for email, such as mail.drsesame.com.)
Log in using the email address domainadmin@yourdomain.com and the Domain Administrator password that was sent to you when we began email hosting.
Can't find your Domain Administrator password? Give our Member Services team a call to have it recovered.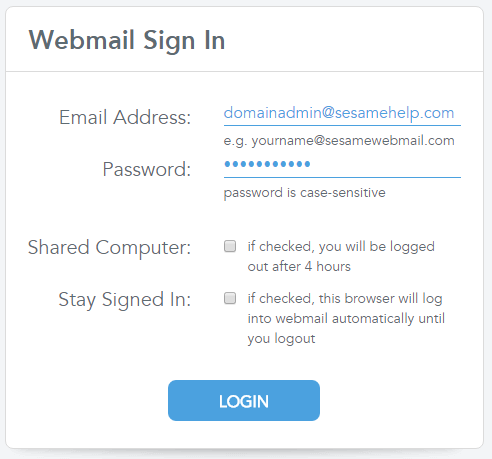 Click on the Admin icon on the left side of the page. You will be asked to re-enter your password.
Click on add users on the left.
Fill in the following information, all other fields should remain unchanged:



User: The part of the email address before the "@yourdomain.com"
Password: The password you wish to give this email account
Reply-To Address: The email address you would like email replies to go to (this will usually be the full address you are creating)
Time Zone: Select your time zone from the list.

All other settings can be left at their default options.

Click Create or Create & Repeat at the bottom and your new email address should now be created.
After you have repeated this process for every email account you wish to create, click Logout in the upper right corner. You will now be taken back to the login screen, where you can log in with any of the email addresses you just created.

  Looking for more information?  Check out these Related Pages!
Our Member Services team is available Monday through Friday, from 6:00 AM until 5:00 PM Pacific. You can reach us Toll Free at 866 537-8272 (outside of North America, dial +1 206 458-7700) - or use our Contact Form to send us an email.